AXIAL FANS - DIRECT DRIVE
EP
EP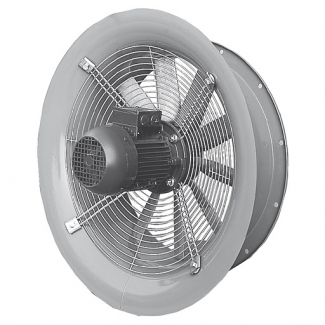 Print this page

Download the catalog series in pdf
EP
Use
For room ventilation, to remove heat, smoke and stale air, it must be remembered that in order to have proper fan operation, it is necessary to replace the extracted air by introducing the same volume of air into the room.
Working temperature
- 20°C + 40°C.
Construction
Direct-drive. The fan casing consists of a ring in steel Fe 360 B, which is flanged according to DIN 24154. The impeller with air-foil blades is made of polypropylene and is locked on a die-cast duraluminium hub and axis mounted wheel. Plate parts are immersed in an electrophoretic bath and then baked at 180°C.
Motor
Three-phase motor, 230/400 V, 50 Hz, forma B5 execution. Other characteristics on demand.
Direction of the air
From motor to impeller.