AXIAL FANS - DIRECT DRIVE
EK
EK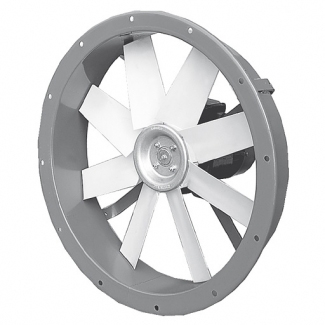 Print this page

Download the catalog series in pdf
EK
Use
These fans are particularly suitable for the removal of stale air, gases, fumes, colour, dust.
Working temperature
- 20°C + 40°C.
Construction
Axial-flow fan, direct drive, the motor is supported by the inlet protection net. The casing is of welded sheet steel, the impeller is made of die-cast aluminium and has adjustable blades. The fan has a shaped inlet.
Motor
The motor is three-phase, 230/400 V, 50 Hz, B3 (other frequencies, tensions on demand).
Direction of the air
Normally supplied with the air flowing from the motor to the impeller (A), for special orders the fans can be supplied with the direction from the impeller to the motor (B).